Welcome to Serendipity Quilt Shop - Online Shopping 24/7



** SALE **


1/25 - 1/31

20 % off Selected Kits

20% off All Panels

** Flat Rate $8.00 Shipping **


We have selected items available on this site including purchasing Gift Cards.
An email receipt for Gift Card purchases will be provided in order to print the Gift Card.
Gift Cards never expire and can be used for online purchases!

You can purchase any fabric or products found
in our shop even if you don't see them posted online.

Just give us a call (302)732-6304 or email us at
Kathy@Serendipityquiltshop.com and we will be happy to work with you!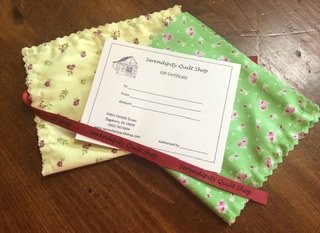 Serendipity Quilt Shop Gift Cards NEVER expire!